welcome
Welcome to Invitations Made to Order, your source for full service, custom made invitations and announcements in Farmington Hills, Michigan.
who are we?
Invitations Made to Order is unique because we guide our customers through every order on a personalized one-on-one basis. Whether it's for a wedding, shower, birthday, anniversary or any event, we have invites for all occasions and we help you through the entire process. The difference is that you get to see and touch the actual invitation you choose, and have someone in person to help you put together the text and pick fonts and figure out all the necessary details. After a number of years meeting with so many customers, what we've heard over and over again is that our helpful guidance, selection and prices are what keep our customers happy.
what's in store?
Invitations Made to Order offers a complete range of premium, midpriced and economical invitations and announcements for all occasions.
We carry wedding invitations, save the dates, programs, birthday invitations, baby announcements, showers, graduation announcements, religious ceremonies, bar and bat mitzvahs, seasonal invites and cards, fundraisers, moving announcements and so much more, all from national and local paper manufacturers. And we carry all the accessories you need for your event, such as place cards, programs, napkins, table numbers, menus, favor boxes and bags, cake boxes, gift tags, ribbon and more.
We also offer our own line of unique invitations that can be easily customized and gives you the option to dream up an original invitation based on your preferences and piece together a custom invite using our resources.
We are proud to be the only business in the invitation industry to offer full service invitations. Our exclusive Full Service Invitation option includes composing a message for your invite, providing you with a proof of the invitation and envelope, having us print your invitation, address each envelope to your guest, assemble the invitation, stuff, seal, affix postage, and mail your invitations to your guests.
Our unique line of products and full service options are a great alternative to traditional retail establishments. And, since we're located in an office building and don't have a high priced retail store, we're able to offer all invitations made to order at a discount.
where are we located?
We are located in room 330 of the Gem Office Center in Farmington Hills, Michigan and offer a simple alternative to purchasing invitations and announcements. The difference is in the price, the selection, the service, and the fact that you can meet with us virtually, on your schedule, by appointment, and receive our undivided attention with a one-on-one meeting.
thank you...enjoy this coupon
And as a thank you to our clients, we're offering a special online exclusive coupon good for 25% off your next order with Invitations Made to Order. Click on the coupon below, print it out, and bring it in to Invitations Made to Order for 25% off your next order with us. We think that this coupon will make you happy. Enjoy - and contact us soon, because this is a limited time offer.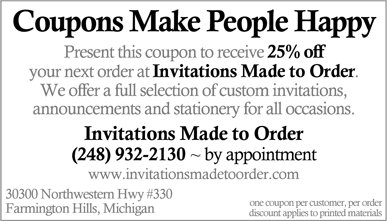 This coupon requires the free Adobe Reader.
To find out more about Invitations Made to Order, check out what's in store!